🇺🇸🇺🇸Fourth of July fun!!🇺🇸🇺🇸
Sunday, the Fourth, begins with our parade around the main loop of the Golf Course at 9:00am. We'll pay tribute to our country and sing the National Anthem and say the Pledge of Allegiance. Decorate your car, a float or your ATV and come join the parade. Costumes are lots of fun and even the doggies dress up for the event. 


Next, is the fishing tournament for the kids. Here is a message from Ron Yeo, head of the Lakes Committee.

 
We are thrilled to report that our children's fishing tournament will return this year after a one-year hiatus. It will be held on Sunday the Fourth of July from 10AM-12AM at Aspen Pond.  The tournament is open to all children 12 and under and they should all be accompanied by an adult. Please come to gazebo on Aspen Pond to sign up at 10 or a little before.
As in years past, we will offer a gift certificate for $25 to the winners of these three categories: the youngest child to catch any fish, the child who catches the biggest fish, and the child who catches the most fish. But, nobody can win more than one category – we want to spread the prizes around. Whenever somebody catches a fish, they should notify one of our adult volunteers, so the fish can be measured and logged in. All children will also receive a coupon for a free ice cream at the clubhouse.
When fish are caught on bait they usually won't survive being returned to the lake. So, plan on keeping your fish unless you get an especially healthy and frisky one that you get off the hook easily and then gets measured quickly. And if you think you might want to return a fish, remember to wet your hands before handling them.
Best of luck to all and remember to take lots of pictures!
At 12:30, we'll have a POTLUCK LUNCH up at the Clubhouse. Just think "All American Picnic" food.


We hope to see all of you there as we gather to celebrate our great Nation and the reopening after the Pandemic. 
🇺🇸🇺🇸🇺🇸🇺🇸🇺🇸🇺🇸🇺🇸🇺🇸🇺🇸🇺🇸🇺🇸🇺🇸🇺🇸🇺🇸🇺🇸🇺🇸🇺🇸🇺🇸🇺🇸🇺🇸🇺🇸




The Summer Election Mountain Monitor is now on line.




Click Here 




                 _________________________________________






We want to hear from you!!!


In November 2019, a group of homeowners who are designers, builders, and construction experts, developed a plan to extend the Clubhouse deck. They presented it to the Board to be in future planning efforts and to be put in the Capital Funds as a future project. We value your feedback and want to hear from you on what you think about the project. Please provide comments to

[email protected]

.  Comments will be posted and updated regularly.  There is no timeline and the cost of building materials has certainly risen since the 2019 estimate, and as we get closer, those figures will be updated.  The link to the doc can be found here:

https://www.taosgolf.org/file/document-page/4133186663/tcX8DktRyavM49rS.pdf


                 _________________________________________
There's an new Valle Escondido Facebook Page

While we have a Valle Escondido Golf page for the public to access, the new page being set up by Wanda Macpherson is PRIVATE for our Property Owners' only. We are so thankful she is willing to take on the task. This will be a great way for "just" the Valle crowd to share things with each other. We have a lot of new members in the Valle and this could be a great way to connect even when we are away from the mountains! Let's look at the highlights. 

 If you would like to join this group, send your email address and your cabin address to:  

[email protected]

   You can send photos to Wanda so she can change the page images frequently. We can share ideas, stuff for sale, fun things happening.
What we would like to skip are: Political postings. (They will be removed)
Treat everyone as you would like to be treated. 
If you are not on Facebook, we are sorry. We are unaware of another platform we can use to accomplish this goal. Much of this same information will also be on our webpage - just not in such a timely fashion.  


link to the page:      

https://www.facebook.com/groups/778856652919562  
You may also type in Valle Escondido Homeowners' Group in the FB Search window. 

You can also use the Join the Group link on the webpage. 
                 _________________________________________
The Firewise Committee also has some helpful links to  fire safety 
Click Here.
Our new Firewise Committee is working hard to keep us informed on smart fire prevention practices. Please go to the Firewise Community page for more information.
_______________________________________________________
Stay current on Valle Escondido Golf Course and Clubhouse events by subscribing to our email list.
___________________________________________________________



  HOMEOWNERS' INFO 



Check the white board outside the clubhouse for the 
status

 of the slash pile .  

 
QuickLinks
Click

Homeowners

under

Pages

at the top right of this page for more info
Valle Escondido
28 Lodge Road
Taos, New Mexico  87571

575-758-3475

Valle Escondido, Spanish for Hidden Valley, is a northern New Mexico community nestled in the Sangre de Cristo mountains at an elevation of about 8500 feet. The community is made up of permanent and part-time residents with a variety of interests and backgrounds who share a love of t
his place. Besides the beautiful scenery and weather,  Valle Escondido is a perfect place for golf and has a nine-hole course which is open to the public. The "walking-only" course is great for all levels of players. Watering is restricted to the tee boxes and the greens, leaving the fairways to rely on mother nature for water. The whole course is groomed and maintained to insure it plays as well as possible. This type of maintenance respects the environment as well as the history of the sport.  The Clubhouse, with a full bar and a deli operation, is a welcome oasis after a round or anytime you want food, drinks and fun.  Come play with us!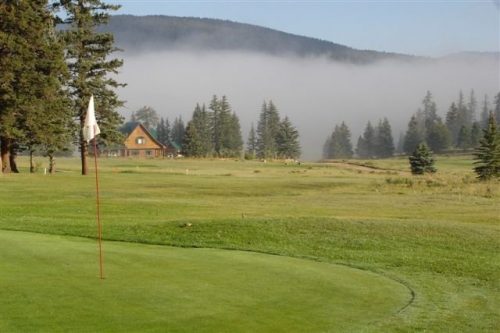 Click here for

a

Map

 

of the area.
              ___________________________